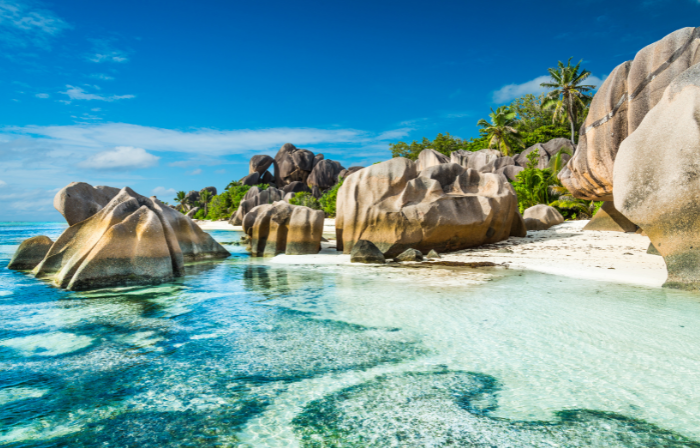 Call To Enquiry 020 3137 3082
Flights To Seychelles
All prices are per person unless stated otherwise. Terms and conditions apply. Offers are subject to availability which may be limited.
| | |
| --- | --- |
| First Class | from £3150 |
| Business Class | from £1140 |
| Premium Economy | from n/a |
| Economy | from £885 |
Cheap flights to Seychelles are getting filled by the minute! So better hurry!


White sand beaches and turquoise waters surrounded by forest-clad mountains!
Beach holiday away from the maddening crowds!
It has to be Seychelles! Definitely!
Seychelles is of unbeatable beauty, exotic and tropical, and the beaches are the best in the world, with immaculate soft white-sand, unspoiled, picture-perfect and impressive; the fringes of the islands are covered with spectacular white, gold or silver-tinged sand. Most beaches are gorgeous, adorned with palm trees, sun-drenched, pristine, impeccable, secluded and isolated, and really stunning.
Want exclusive photographs for blogging or vlogging?
Takeflights to take pics against the backdrop of extraordinary granite boulders and azure waters of the Indian Ocean; the pink sand adding to the exclusiveness.
Flights to Seychelles from London for as low as 885 pounds is a hot deal; even you'd agree! Book now to avoid the rush & larger profits. You will receive at least some discounts even if you make sudden plans to visit Seychelles.
In addition you'll have the say in choosing the seats- aisle or window. If you seek so, we can arrange for long stop-over flights to Seychelles from UK, to facilitate you a sneak-peek of the lay-over city.
The itinerary will be made considering your convenience of number of days and also which sort of places, you'd like to visit. Let us take up the challenge of personalizing each holiday according to your spectrum of preferences and budgets
Don't worry about the safety of your money. Because, we are associated with Travel Trust Association and also registered with ATOL.
The bookings of cheap flights to Seychelles from London will be smooth on our user-friendly UI. For a personal touch, contact us on 020 3137 3082.
Hence, make the most of your fun-trip. We have tied up with some locals, who will tell you how to make the most of it after you have landed from the flights to Seychelles.