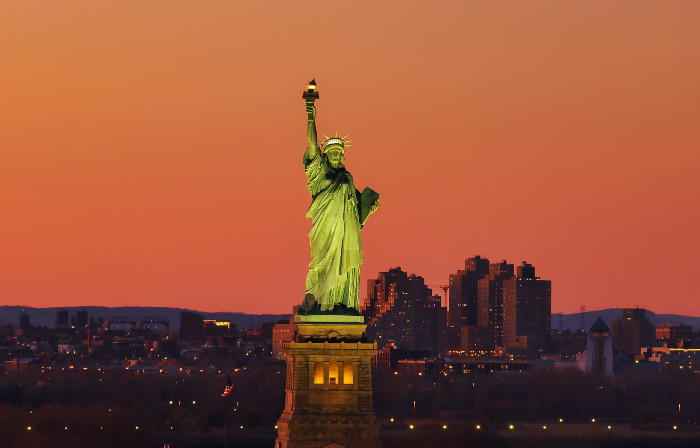 Call To Enquiry 020 3137 3082
Flights To New York
All prices are per person unless stated otherwise. Terms and conditions apply. Offers are subject to availability which may be limited.
| | |
| --- | --- |
| First Class | from £2700 |
| Business Class | from £1140 |
| Premium Economy | from £542.5 |
| Economy | from £235 |
Deals on Cheapest Flights to New York from London.

Welcome to White Magic Travels- your one-stop shop to get the hottest deals on cheap flights to New York from London or anywhere else in the United Kingdom.

Visit our website to receive discounted tickets for flights to New York throughout the year! We are not stringent about selling cheap flight tickets during the off-season.

Unlike any flight aggregator website, White Magic Travels assure travellers with the hottest deals on flights even when their journey dates are near.

Let us help you create a complete tour package to New York

Get attractive discounts by making us your travel partner. Along with cheap flights to New York, we can create your itinerary and holiday packages to New York by finding the best hotels, sightseeing packages, car rentals, etc.

Let us know about your budget, places you would like to explore and other necessary details so that our travel genies can help you get the best holiday packages in New York like we offer similar packages across the United States of America.
Why Choose US?
White Magic Travels is a trusted flight aggregator website featuring flights to New York from London at most discounted rates.
Here we ensure our customers with hot flight deals on top international airlines of any class.
Never expect that you cannot receive a discount if you choose a business class or premium economy. We are miles away from keeping such barriers.
Even when you're close to the journey date, we try our best to offer you a discounted flight rate in any class you want.
While booking your flights to New York from UK with us, feel safe with your investment as our services are protected by the Travel Trust Association.
Get in touch with us with any query, assistance, or travel-related support from 8 am to 12 am.