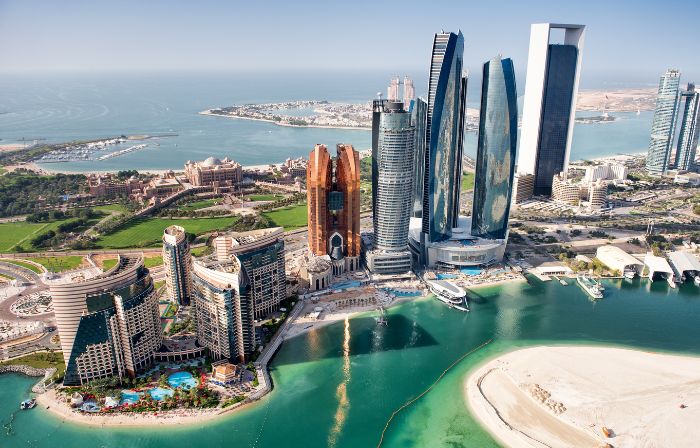 Call To Enquiry 020 3137 3082
Flights To Abu Dhabi
All prices are per person unless stated otherwise. Terms and conditions apply. Offers are subject to availability which may be limited.
| | |
| --- | --- |
| First Class | from £2700 |
| Business Class | from £1260 |
| Premium Economy | from £713 |
| Economy | from £480 |
Get your skates along. Else you'll miss booking cheap flights to Abu Dhabi; you so much wanted to!


Why Abu Dhabi?
Abu Dhabi has a beach which will suit every traveller, whether you're looking for a laid-back stretch of powder-soft white sand near the city, a family-friendly escape on a remote island home to 17,000 free-roaming animals, or a luxury break on a lush boutique private island with swings that soar over the sea.
Why White Magic Travels?
We are travel experts who provide a comprehensive range of services such as
We book first class flights, business class flights, premium economy class flights, economy class flights to Abu Dhabi&all major destinations on the globe.
We provide holiday packages such as Abu Dhabi holiday packages.
We arrange for transfers from and to the airport to your required accommodation after you have alighted from flights to Abu Dhabi from UK.
We also book convenient and comfortable accommodation of your choice, within your budget; be it near the beach or the market place, the desert area or other places of interest.
We create itineraries- which'll suit your expense limit, within the no of days- you'd like to travel, and include everything that you looked forward to in this trip after you have alighted fromcheap flights to Abu Dhabi from London.
We'll also assist you with any kind of emergency you may be in, say- cancellation requests.
We associate with the locals to give you a better idea about how to enjoy the place to its maximum.
We also advice which are the must-do activities, the must have food, must-go sites (within that place) & also the must-avoids.
Safety protocols have undergone huge changes since the pandemic. We also guide you how to 'best practice those protocols' even before you have taken flights to Abu Dhabi from London.
Just log on to our very easy to use UI or call us on 020 3137 3082.