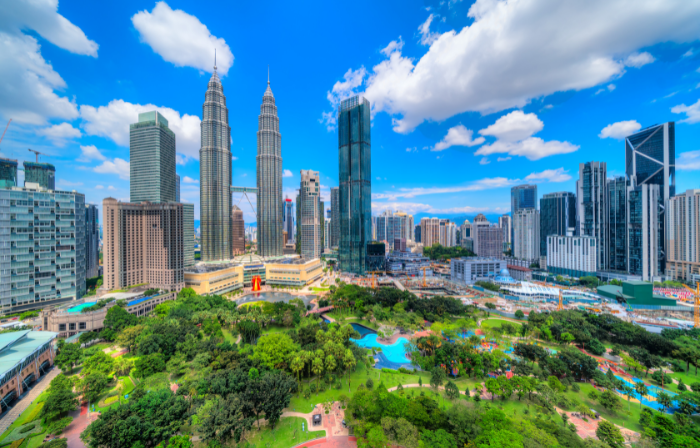 Call To Enquiry 020 3137 3082
Flights To Kuala Lumpur
All prices are per person unless stated otherwise. Terms and conditions apply. Offers are subject to availability which may be limited.
| | |
| --- | --- |
| First Class | from £2850 |
| Business Class | from £1800 |
| Premium Economy | from £1688 |
| Economy | from £870 |
Why take flights to Kuala Lumpur, the modern yet exotic capital city of Malaysia?
Because:
This great city has conducive weather all round. You can have any sort of holiday- a beach one, go on a shopping spree, enjoy world class cuisine & the local delicious "sambal", take your kids to the largest aquarium of the world- Aquaria KLCC, experience a pulsating night life, etc.
Be pulled to this magnificent city for its lifestyle, flourishing economy, sound education, and pristine beaches. Take cheap flights to Kuala Lumpur through White Magic Travels.
Be pulled to us for the wide array of facilities we provide:
We renowned for our excellent customer service, are offering special summer discounts. We have been in this industry for several years now. White Magic Travels is offering "too good to be true" discounts for flights to Kuala Lumpur from UK.
But why?
For you, to enjoy the pristine marvellous beaches of Kuala Lumpur. We are backed by Trusted Travel Association. So you need not hesitate to partner with us.
When?
This summer of 2022, of course! We take care of our clients' comfort and prepare suitable itinerary. We provide exclusive deals on flights to Kuala Lumpur from London, even when your plan is sudden.
Which flights?
The most comfortable, time-saving, hassle-free, cheap flights to Kuala Lumpur from London. We have been in the industry for quite long to understand the nuances of picking the right flights for you.
What else?
Accommodations at your preferred places; near the airports or near the beach, near the aquarium & shopping areas or in a far-off quiet place. We assure you comfortable yet economic stay at your favourite place
All round the clock assistance. Ring 020 3137 3082 for anytrip related assistance. Our local reps will be with you in no time.
Advice on all travel related necessities will be gladly given out by us.
Call us to plan the unplanned. Planning services are complimentary