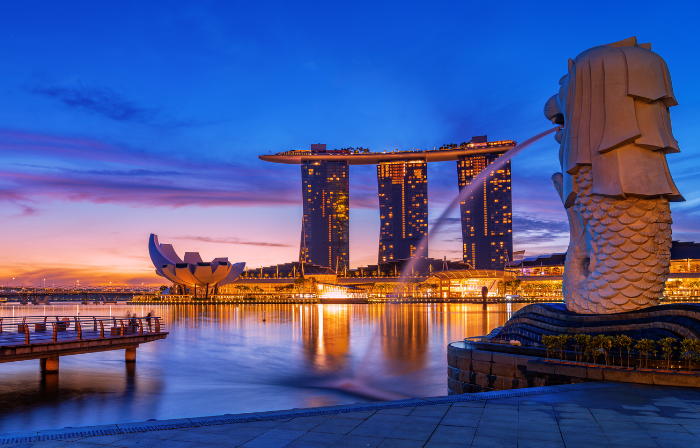 Call To Enquiry 020 3137 3082
Flights To Singapore
All prices are per person unless stated otherwise. Terms and conditions apply. Offers are subject to availability which may be limited.
Are you looking for some fun things to do?


Then you must definitely take flights to Singapore to enjoy the cultural festivals, major sports, lifestyle and arts events held round the year to keep you entertained.
Interestingly, the name Singaporemeans 'place of lions" in Sanskrit. Singapore actually doesn't have lions. Flights to Singapore from UK will allow you to see the structure- "Merlion", the Mermaid body with a lion face, in one of the world's greenest cities; with sprouting skyscrapers all over.
Are you looking for new perspectives and new ways to experience the world?
Then you must definitely associate with White Magic Travels; to rekindle your love for the bold, the beautiful, the new, the laid-back, the exciting, the lazy places, dotted all over on the surface of the world.
We don't only expertize on taking you on cheap flights to Singapore, we also provide humongous other facilities:
Our User Interface (UI) is very easy to use. So you can book flights to Singapore from London or elsewhere very conveniently. If you face any issues, call us on 020 3137 3082.
With us, you will save yourself time, effort, energy, & a lot of fuss.
You will receive huge discounts too on flights, accommodations, transfers, bookings, sight-seeing etc. So you can book these facilities with us.
Do not worry about our reliability. We are associated with Travel Trust Association; which guarantees 100% financial protection to the consumer, ensuring total consumer confidence.
We also prepare the itinerary which will be according to your preferences. This will facilitate huge savings along with time management.
In case, you have to cancel, we'll make it seem like a cake walk with the least possible losses.
We will make sure our reps are in touch with you (if you seek so), throughout the trip, for a relaxing one.
We will also ensure about the must-haves & must-dos in Singapore, after you have taken cheap flights to Singapore from London.