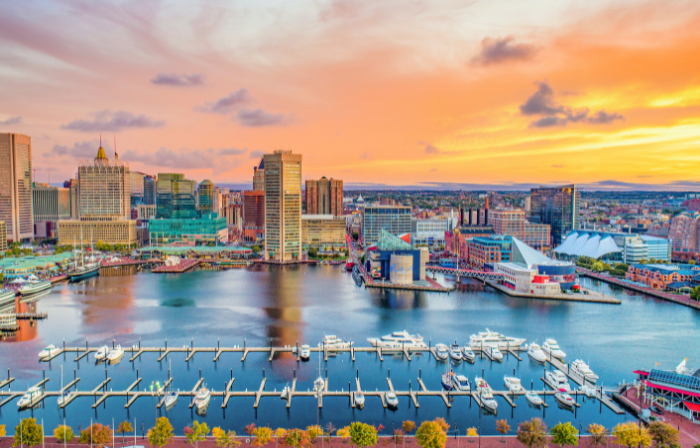 Call To Enquiry 020 3137 3082
Flights To Baltimore
All prices are per person unless stated otherwise. Terms and conditions apply. Offers are subject to availability which may be limited.
| | |
| --- | --- |
| First Class | from £2970 |
| Business Class | from £1650 |
| Premium Economy | from £1110 |
| Economy | from £350 |
Welcome to White Magic Travels, your No-1 online travel agency, offering cost-effective holidays and tour packages to the USA. Reach us to buy cheap flights to baltimore from London tickets with up to 50% discounts on all classes. Get the same discount; whether you want a business class ticket or a premium economy flight ticket to reach Baltimore from anywhere in the UK.

Visit us to get 100% satisfactory support from our highly trained and experienced team, happy to help you with any information. We assure complete virtual assistance from choosing a holiday package to selecting the best flights to Baltimore at heavily discounted rates.

Trust us for being your next vacation genie. Allow us to schedule your complete holiday, starting from booking the flights to baltimore from London and returning to selecting the most suitable hotels to stay in Baltimore.

Our agents are also capable to design the whole itinerary where we can research and suggest to you the best road directions to reach out to the amazing sightseeing destinations. We can also get you the rental car services if you allow us to do it on your behalf!
WHY US?
White Magic Travels is built with the passion to provide our customers with the ultimate holidaying experience. For that, we have got in store only the tickets for the cheap flights to Baltimore but also a wide array of customisable tour packages to Baltimore and other places in the USA.
We take pride in the competency of our employees, always ready to move forward to helping you with any instant assistance related to finding a flight with better discounts to booking hotels for your next tour to Baltimore.
Give us a call right now at 020 3137 3082 for any information.