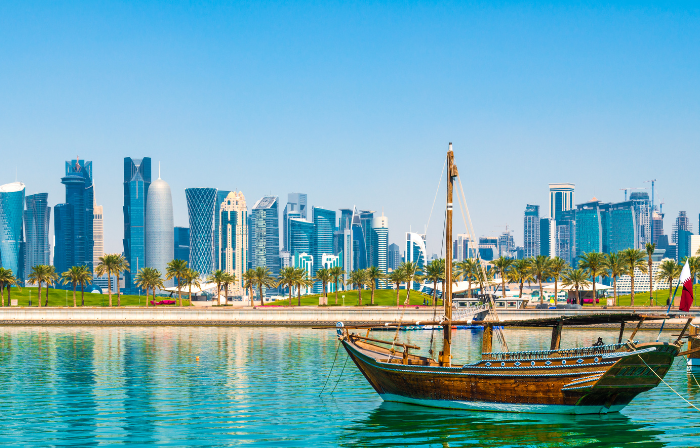 Call To Enquiry 020 3137 3082
Flights To Doha
All prices are per person unless stated otherwise. Terms and conditions apply. Offers are subject to availability which may be limited.
| | |
| --- | --- |
| First Class | from £5400 |
| Business Class | from £1650 |
| Premium Economy | from £510 |
| Economy | from £435 |
When are you booking flights to Doha which is about to exhaust?


Qatar is considered to be one of the safest countries in the world. With a significant population of British ex-pats, there is actually no security concern. Travellers can enjoy a safe vacation in Doha- the capital city of Qatar. Embark oncheap flights to Doha from Londonfor a journey of a lifetime to the gem of the Persian Gulf.
So, when are you packing your bags?
Don't stress even if you have just decided to book cheap flights to Doha. We will provide with some discounts. But it's always a good idea to plan and book tickets early on; for unbelievable offers.
We will make your travel stress-free and source incredible airfare deals so you can sit back, relax, and start your vacation or business trip.
We will help plan your perfect trip with a perfect itinerary.
With us, you'll know where your money goes. No hidden charges. No hidden fees. No funny business.
Stay one step ahead with the latest travel updates, hotel bookings, car hire, cancellations, Covid19 travel insurance.
We've got you covered anytime, anywhere. No matter where you want to go in the world, we know how to find the best deal for booking flights to Doha from UK.
Booking with White Magic Travels makes finding a flight easy but that's the beginning of everything related to travelling you can take advantage of. For example, we will provide guides and bookings in Doha after you have landed from flights to Doha from London. We have associated with the guides there for your convenience.
We will also lend our expertise in the tourism industry, our first-hand experience of our personal visits to Doha, our tips and tricks for an enjoyable trip, our availability through chat on Whatsapp or on call at 020 3137 3082.