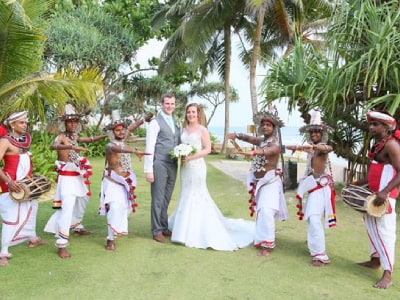 Wedding In Sri Lanka
Choose from our exceptional wedding packages in Sri Lanka to begin your everlasting love story in an exotic island. Celebrate your awe-inspiring and romantic wedding in Sri Lanka with spectacular views of the Indian Ocean.
Legal Requirements
The couple should be resident at the hotel at least 04 days prior to the day of the wedding. Ceremony will take place in the hotel premises from 08.00am -06.00p.m.
(Except on public holidays)
No individuals under the age of 21 years is permitted to marry in Sri Lanka according to rules and regulations of the Sri Lankan Government.
Documents Required- 30 Days Prior To Arrival
Birth certificates of the couple
If divorced or widowed, relevant certificates
Photocopies of passports
Ceremony Arrangements
A traditional decorated platform called "Poruwa" on which the ceremony will be conducted
Hire of the traditional Srilankan wedding dress for the Bride
Flower bouquet for the Bride and the boutinere/boutonniere for the Bridegroom
Floral decor for the ceremony area
Girls dressed in traditional costumes will sing "JayamangalaGatha" to bless the couple
Civil Celebrant and the "Kapumahattaya " will bless the couple
Traditional Kandyan Drummers and dancers
Wedding cake -500gms edible
Wedding album consisting of 20 photographs -5"x 7"
Sparkling wine to toast during ceremony
Free DVD system video coverage of the whole ceremony
Sparkling Honeymoon brunch will be served in the room for the couple
Basket of fruits and flowers in the room occupied by the couple
Manicure & Pedicure at the Wellness & Spa for 45 minutes for the bride
03 exotic menus to choose from, or you are welcome to dine at the main restaurant - bottle of House wine to be served during dinner on the wedding night. A table reservation will be made with the menu chosen and name cards of the couple placed on the table. Please speak to your Master of ceremonies on arrival.
Your personalized Master of ceremonies will coordinate your ceremony .
Optional Extras
Extra copies of photographs (5"x 7") of the ceremony .
A 15minute Elephant ride for a minimum of for the couple.
Spa & Body massage
Tour of the hill country by car, accommodation in a colonial 04 star hotel for one night on Half board in a deluxe room .
Wedding Ceremony in a Catholic Church
The marriage certificate with English translation will be delivered to the couple within 14 working days.
Please fill the below form to submit your enquiry.