Istanbul
Istanbul is a major city in Turkey that straddles Europe and Asia across the Bosphorus Strait. Its Old City reflects cultural influences of the many empires that once ruled here. In the Sultan Ahmet district, the open-air, Roman-era Hippodrome was for centuries the site of chariot races, and Egyptian obelisks also remain. The iconic Byzantine Hagia Sophia features a soaring 6th-century dome and rare Christian mosaics.
Istanbul, the only city which is both in Asia and Europe, is known for its historical sites, museums, the Grand Bazaar, and Turkish cuisine. As you hop on an excursion of this travel destination where East meets west, and here is a chance to navigate through its scenic landscapes that are layered with rich history.
The Ottoman-era Sultan Ahmet Mosque (Blue Mosque) was named for its blue interior tiles. Circa-1460 Topkapı Palace, home to Ottoman sultans until the 19th century, contains royal artifacts and rooms that once comprised a large harem. Nearby is the Spice Market and rambling Grand Bazaar. Spanning the Golden Horn estuary, atmospheric Galata Bridge is a popular fishing spot and leads to the city's modern heart. The Galata area is known for its medieval tower and upmarket boutiques.
Things to do
The Blue Mosque
The Sultan Ahmed Mosque is a historic mosque located in Istanbul, Turkey. A popular tourist site, the Sultan Ahmed Mosque continues to function as a mosque today; men still kneel in prayer on the mosque's lush red carpet after the call to prayer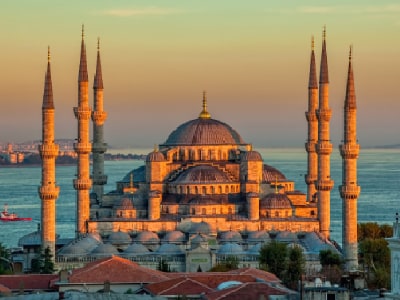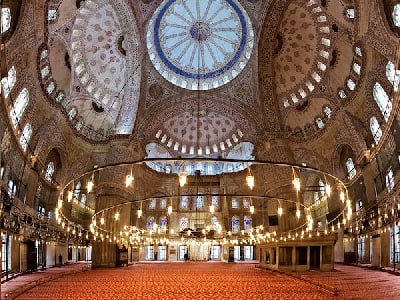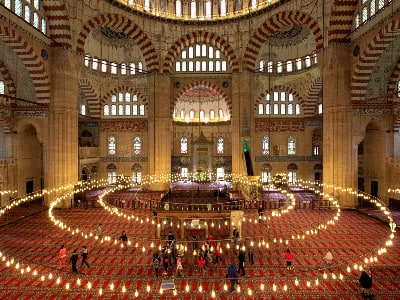 ---
Grand Bazaar
The Grand Bazaar in Istanbul is one of the largest and oldest covered markets in the world, with 61 covered streets and over 4,000 shops on a total area of 30,700 m², attracting between 250,000 and 400,000 visitors daily. Historic sprawling network of indoor souks & market streets peddling leather, jewellery & gifts.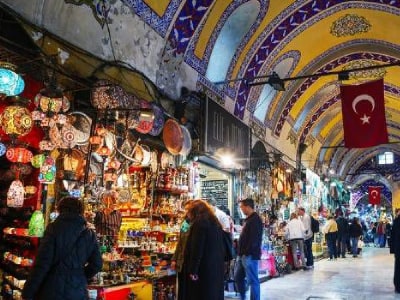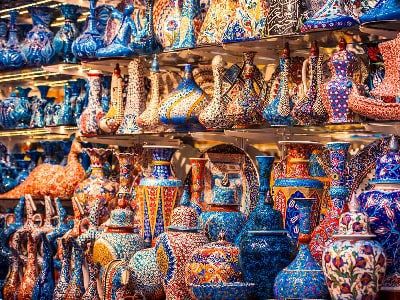 ---
Hagia Sophia Museum
Hagia Sophia is the former Greek Orthodox Christian patriarchal cathedral, later an Ottoman imperial mosque and now a museum in Istanbul, Turkey. Built in 537 AD at the beginning of the middle Ages, it was famous in particular for its massive dome. Museum with glittering mosaics of Biblical scenes in vast, domed former Byzantine church and mosque.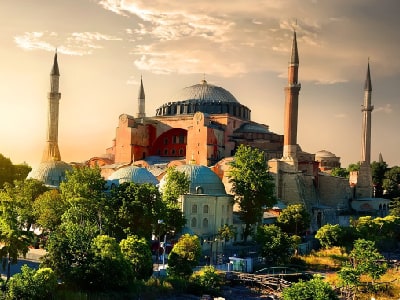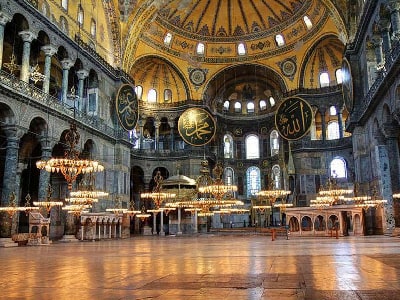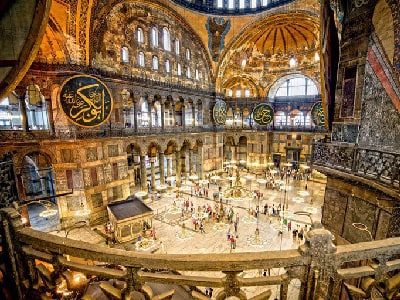 ---
Topkapi Palace Museum
Historic Ottoman-era palace complex
Huge, opulent 15th-century palace, occupied by sultans for 400 years, housing Ottoman treasures.
The Topkapı Palace, or the Seraglio, is a large museum in Istanbul, Turkey. In the 15th century, it served as the main residence and administrative headquarters of the Ottoman sultans. Construction began in 1459, ordered by Mehmed the Conqueror, six years after the conquest of Constantinople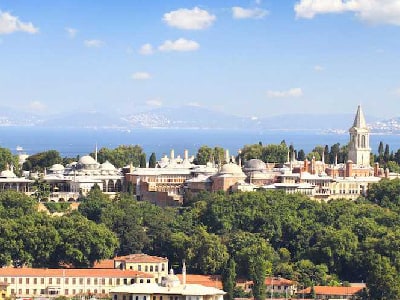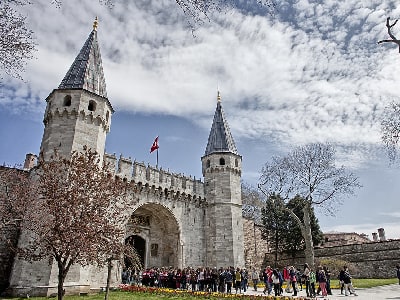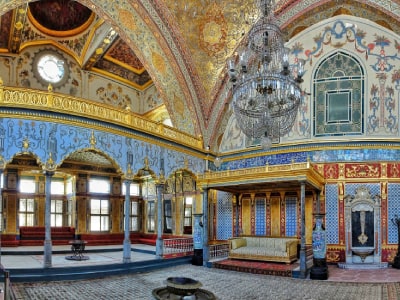 ---
Bosporus
The Bosporus or Bosphorus is a narrow, natural strait and an internationally significant waterway located in northwestern Turkey. It forms part of the continental boundary between Europe and Asia, and divides Turkey by separating Anatolia from Thrace
Landmark waterway & continental boundary
Boat tours provide visitors with unique city views from this strait separating Europe & Asia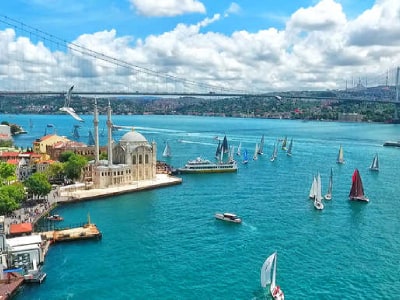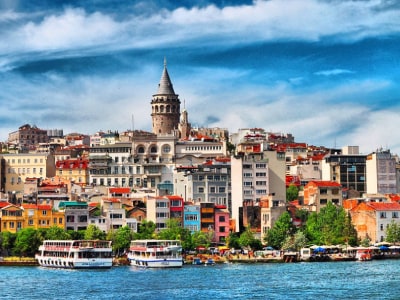 ---
Climate
Istanbul holidays are defined by hot summers and cold winters, so pack appropriate clothing for the time of year. During the summer months, high temperatures are accompanied by high humidity, and this may feel uncomfortable to many people who are not acclimatised to travelling in hot countries, so make sure clothing is not only light and cool, but is made of breathable fabrics. In winter, weather is largely cold and often snowy, so pack plenty of layers and thicker clothing, along with sensible cold-weather footwear.
---
Language
Turkish is the main language, but you'll find English widely spoken and used in things like signage and restaurant menus, too. For travellers who don't speak Turkish or English, there are also 'tourism police' in the main holiday hotspots, and they are able to help with any incidents affecting visitors from all over the world.
---
Currency
Turkish lira is the local currency, with bank notes from 5 to 100 TL and coins from 10 kurus to 1 TL. Scottish notes are not accepted, but English sterling can be exchanged easily at banks and hotels, and also without commission at doviz, the local bureaux de change. Travellers' cheques can be exchanged too, and there are plenty of ATMs. If you plan to use your card on holidays to Istanbul, tell your bank in advance, as it can be difficult to resolve the situation if they reject your transaction due to concerns about fraud.
---
Visas
You will need a visa when planning package holidays to Istanbul. However, this is typically obtained on arrival, by queueing at the visa booth at the airport. You get your visa before going through passport control, at a cost of about £10, and it will cover you for trips of up to three months. For longer stays, you can apply to extend your visa - but this should be done within a month of arrival, so don't expect to be able to extend your stay on a whim beyond three months.
Please fill the below form to submit your enquiry.