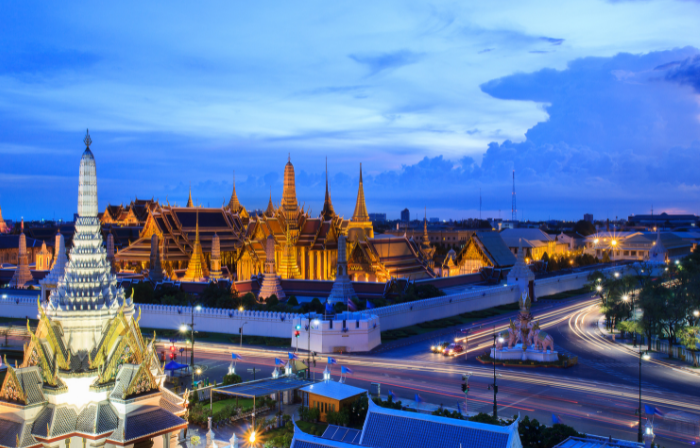 Business Class Flights to Bangkok Thailand
All prices are per person unless stated otherwise. Terms and conditions apply. Offers are subject to availability which may be limited.
| | |
| --- | --- |
| Business Class | from £1950 |
Luxurious Flying Experience at Business Class Flights to Thailand- Book Tickets to grab deals at White Magic Travels
Thailand is one of the most popular tourist destinations. People from different corners of the world are flying to Bangkok, Thailand to see the spectacular beaches, verdant locations and rich heritage. For business purposes and alternative medication, Thailand is also pulling the crowd. Whether you intend to have a romantic vacation in Thailand or are interested in medical tourism there, book tickets for the business class flights to Bangkok Thailand from White Magic Travels to receive attractive deals on flight bookings.
White Magic Travels is a trusted flight booking aggregator website. With a simple interface and fast flight booking system, get a glimpse of the business class flight deals to Bangkok we have in store!
Why fly Business Class Flights to Thailand?
Get a bigger seat
Despite staying away from the crowded economy class, passengers in the business class of any popular flight to Thailand enjoy a bigger and softer seat. Mostly these seats are recliners that help when the passengers have to take a nap. Even though the price of the tickets for business class flights to Bangkok from UK is ten times more than the economy or premium economy class flights, the passengers enjoy the luxury that the business class flights provide. Experience the excellence of a business class flight. You will enjoy the broader leg space and comfortable journey!
Enjoy more care
The business class passengers are attended faster. Start your journey by receiving hot towels to freshen up. Get a welcome drink in the next few minutes. Most business class flights provide a welcome kit carrying a toothbrush, toothpaste, sanitiser, earplugs, eye masks, etc.
Better food & unlimited drinks
Find the best deals on your business class flight tickets at White Magic Travels and experience the luxury of business class flights to your next trip to Thailand. Plus, enjoy hot and delicious food with unlimited drinks. You can also share your preference and the flight attendants will pay heed to it and serve you a platter of your chosen food and drinks.
Add more luggage & wait at the special lounge
Business class flyers have the privilege to add more luggage. Passengers also receive the facility to have less waiting time before boarding the plane. The check-in complications are also less for business class passengers. They are also allowed to wait at the special lounge with restaurants, cafes, restrooms, etc.
Book a non-stop business class flight to Thailand or a plane with one overlay. International flights do take overlays but when the passengers are paying a higher amount, they prefer zero to one overlay.
How can we help you?
For a hassle-free and fast flight booking experience, visit White Magic Travels. This one-stop AI-powered portal assures the fastest display when you search for the best business class flights Bangkok to London, for instance.
We send you the instant confirmation of your flight tickets at White Magic Travels. For any further queries, we request calling us or send an instant message to the chatbot. Our customer care service providers are happy to help you instantly.
Buy a packaged tour to Bangkok, Thailand besides booking your business class flights to Thailand.