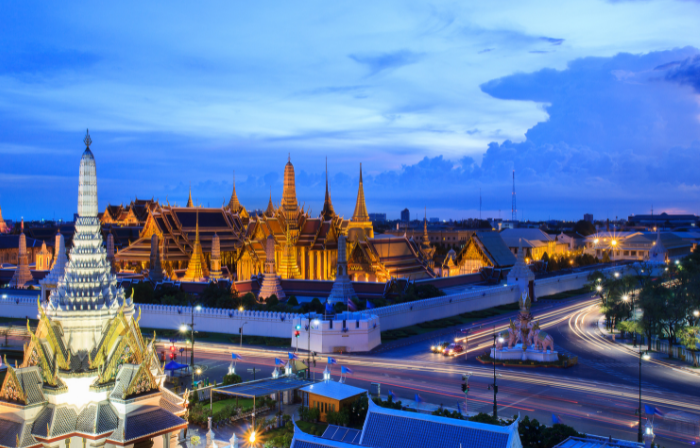 Premium Economy Flights To Bangkok Thailand
All prices are per person unless stated otherwise. Terms and conditions apply. Offers are subject to availability which may be limited.
| | |
| --- | --- |
| Premium Economy | from £1550 |
Book tickets for Premium Economy flights to Bangkok from UK at White Magic Travels
Have you been wondering about upgrading your economy class flight ticket or intending to experience a more comfortable flight to your next vacation to Thailand? At White Magic Travels, we have a smarter flight booking aggregator system that showcases the available Premium Economy flights to Bangkok from UK instantly on your screen! Grab the hot deals we offer on your next premium economy flight ticket purchase. We assure you with the best deals on flight tickets that no one does. You bet!
Benefits of flying premium economy flights to Thailand
After boarding one of the best premium economy flights to Bangkok you can see the difference yourself. The seats are bigger and some airline companies such as Emirates provide recliners to the passengers in this category.
Get a welcoming kit containing small packagers of regular hygiene, earplugs, and eye masks. You can also receive a headrest or a pillow from a few airline companies.
The overlays are comfortable as many airline companies have special lounges for their premium economy passengers. There you can enjoy good food at the restaurants. Passengers can even take a bath at the restrooms during a several-hour overlay.
The flight attendants provide food and drinks during the flight. You can get additional water or any other drink along with a magazine during the several-hour flight to Bangkok.
Why Us?
Get your plane fast
Your search for the best Premium Economy flights from Bangkok to London or vice versa ends at White Magic Travels. This is a leading flight aggregator website featuring the availability of flight tickets of any class flying to any destination across the world.
Whether you're planning for a vacation to Bangkok or visiting Thailand for medical tourism, pre-book your flight tickets months before. To avoid the seasonal rush, booking premium economy flights to Bangkok is strongly advised.
100% safe transactions
White Magic Travels is your travel genie assuring 100% safety for any transaction. We value your money and time, therefore, we keep our portal safeguarded by a powerful server.
Book a packaged tour to Bangkok, Thailand
Make your vacation to Bangkok more successful by customizing a packaged tour from White Magic Travels. While exploring our website, you can see despite booking the tickets for one of the best premium economy flights Bangkok to London, you can book your accommodation, cabs, sightseeing trips, etc.
As Bangkok stands as a popular destination for usual vacationers, honeymooners, and medical tourists, pre-booking accommodation, rental car services, and sightseeing trips will be a better idea.
Let our travel experts create the itinerary that includes flight tickets, stays, meals, airport pick up and drops, local tours, cabs, etc.
Inform us about your date of departure and budget and let our system create the perfect vacation to Thailand using our AI.
Get connected to any of our online travel genies, happy to help you with anything you want to make your trip to Bangkok a happening one!