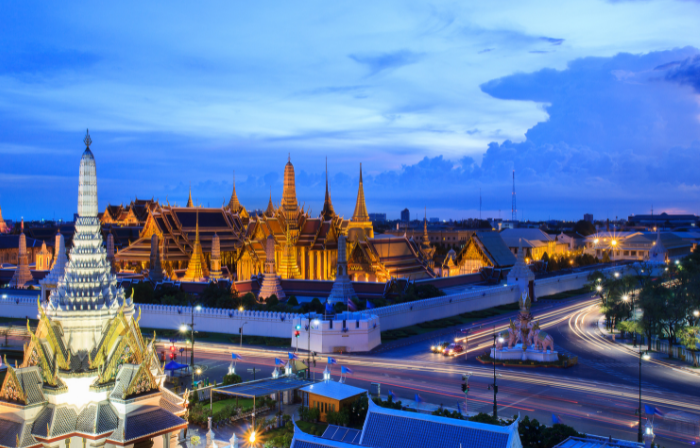 First Class Flights To Bangkok Thailand
All prices are per person unless stated otherwise. Terms and conditions apply. Offers are subject to availability which may be limited.
Get Hot Deals on First Class Flight Tickets to Bangkok, Thailand- only at White Magic Travels
White Magic Travels is a leading flight booking aggregator website ensuring a faster and hassle-free flight booking experience. Shop for the best First Class flights to Bangkok from UK only at White Magic Travels, your one-stop hub to grab the hottest deals on your next flight to Thailand!
Despite making our mark as a trusted, fastest, and most customer-friendly virtual travel agency, our website caters to the best accommodations, cabs, and sightseeing tours. Let us create your itinerary and get you a customized packaged tour of Bangkok. Stay away from the unnecessary hassle of finding accommodation in Bangkok or the rental car services. White Magic Travels is here to create a lucrative packaged tour including first class ticket to Bangkok Thailand.
Pre-booking your flight tickets to Bangkok, Thailand, if you are planning for a vacation during the peak season. Bangkok is one of the greatest attractions for the Westerners during the winter. It's the tropical climate and thrilling beach activities that drive most tourists to spend their holidays here.
Besides the regular vacationers, Thailand is also a popular medical tourism destination. The alternative medical treatments with Ayurveda, acupuncture, and Thai messages, pull a huge crowd from all over the world.
Therefore, pre-booking your tickets for the first class flights to Bangkok Thailand is the best idea!
How can we help you?
Simple yet efficient interface
White Magic Travels maintains a simple yet efficient interface. Enter the date and destination where you want to fly and our system will display the available first class flights from Bangkok to London or vice versa.
We guarantee you the fastest flight booking experience only at White Magic Travels. Book a tour package
Book a customized tour package to Bangkok to enjoy instant pick-up and drop-off facilities at the hotel from the airport. Also, pre-book a villa by the sea or a resort in Bangkok to enjoy the best of the seaside experience. You can also add swimming pools, massages, spas, etc. by clicking on the filters while choosing the accommodation from us.
Safer transactions
Your money is safe with us. Even when you pay for first-class flight tickets, we assure you of secured transactions and instant confirmation via email or SMS services.
Why fly first class?
Your love for luxury and opulence will drive you to fly first class flights. Enjoy a separate suit with a personal couch, bed, and large TV with a music system. Enjoy a personal bar, a welcome basket containing chocolates, dates, cookies, hand cream, eye masks, ear buds etc.
The first-class passengers enjoy a full bar with a bartender. You can order any drink onboard.
Also, enjoy three-course full meals of your choice while travelling first class.
First-class passengers have the feasibility to wait at the special lounge. Enjoy the first-class treatment by any airline company you choose by boarding the plane fast and carrying more luggage.
Call us now for any information while booking first class flight tickets to Bangkok, Thailand.