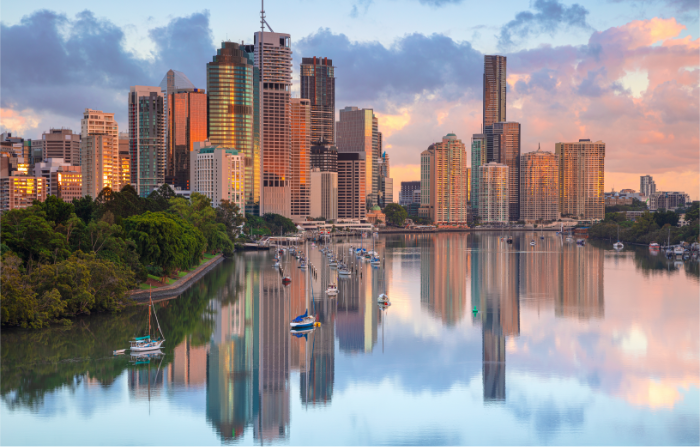 First Class flights to Brisbane Australia
All prices are per person unless stated otherwise. Terms and conditions apply. Offers are subject to availability which may be limited.
Fly First Class to Brisbane from London, UK- Get attractive deals on tickets at White Magic Travels
Do you prefer flying first class? At White Magic Studios, we have a plethora of options to serve you with! Collaborated with acclaimed airline companies across the globe, our aggregator site showcases the best deals on first class flights to Brisbane Australia! Get the offer on your next first-class flight to Brisbane by booking your tickets here.
It's our two decades of hands-on experience in the travel and tourism industry that leads us to establish White Magic Travels. The aim is to provide the best virtual platforms for our customers looking forward to booking first class ticket to Brisbane Australia and any other destination across the globe.
Brisbane is a popular business destination in Australia. Every year, we sell a record amount of flight tickets to Brisbane. Most customers check our system for First Class flights to Brisbane from UK. They want to enjoy the most luxurious flight to Brisbane with minimum overlays.
Grab the best deals on first class flights from Brisbane to London and vice versa on our aggregator website besides redeeming the loyalty points you earned from any particular airline company.
What facilities do passengers enjoy flying first-class flights to Brisbane?
When people pay ten times more to book a first class flight ticket to Brisbane or whichever place across the world, they receive the opportunity of exploiting the heavenly pleasure. Despite enjoying the luxury, they are bestowed with VIP treatment from boarding the flight to facilities at the overlays.
Rather than waiting in long checkout queues, you can board the flight directly. The first-class lounge is also different from the economy class. Here, you can get luxurious sofas with good food and drinks. During overlays, you can also get a shower at the restrooms. They have such facilities.
While onboard, sleep comfortably in the recliner seats. Some top-class First Class flights to Brisbane from UK provide coupes to passengers. Enjoying a personal room aided with a plush bed cum seat, personal TV, stereo system, magazines, complimentary dry fruits and chocolates to make your journey more entertaining.
First-class passengers can also take their pets with special permission.
The flight attendants also take special care of their first-class passengers with anything they need. Expect mouth-smacking food and beverages onboard. The first-class flights also have a full-house bar.
Why choose us?
White Magic Travels is one of the leading aggregator websites for flight ticket booking. With a simple interface and fast accessibility, our users express their happy experiences through positive testimonials.
In a single search, finding any first-class flight flying Brisbane is possible only at White Magic Travels. For any support type, "hi" at the chatbot and get instant answers from our in-person customer support executives.
Book your complete travel package in Brisbane only at White Magic Travels. Besides showcasing the flight tickets, we maintain a listing of the premium hotels and other facilities vacationers need during their holiday!
Call us now for any queries!