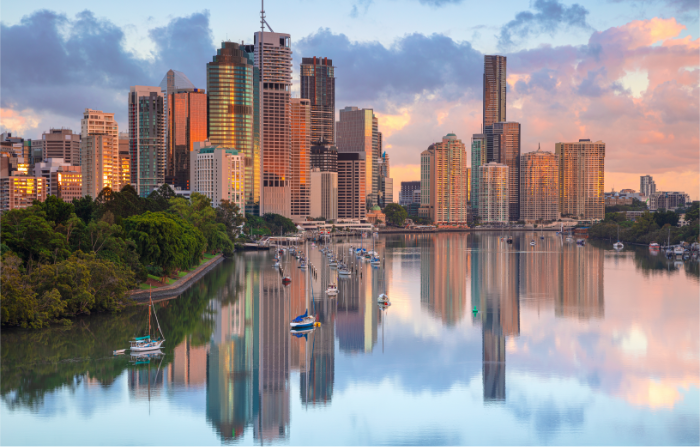 Premium Economy flights to Brisbane Australia
All prices are per person unless stated otherwise. Terms and conditions apply. Offers are subject to availability which may be limited.
| | |
| --- | --- |
| Premium Economy | from £1550 |
Fly Premium Economy flights to Melbourne from UK- Deals on flight tickets at White Magic Travels
Melbourne drives people from all around the globe as tourists and for business purposes. The coastal capital of Victoria has a global reputation for being a sports capital and also for the plazas, Aussie food, shopping malls, historic buildings and bountiful natural beauties. Whether you head to Melbourne for a business trip or vacation with or without your family- book your tickets for the Premium Economy flights to Melbourne from UK at least three months before the day of the journey.
There is a saying in the travel and tourism industry that booking air tickets 54 days before the date of travel is a must! At White Magic Travels, book your chosen air tickets from the comfort of your home with 100% ease.
After the economy class, the premium economy class confronts the last-moment rush of vacationers or business tourists. To avoid the tantrums book your round-trip tickets for your favourite premium economy flights Melbourne to London. Melbourne always faces a huge rush throughout the year. Therefore, booking your flight tickets and accommodations is recommended.
Why choose White Magic Travels?
We have the hottest deals on Premium Economy Flights to Melbourne
Yes, you got it right! Our business is not only designed to provide a simple virtual flight ticket booking system but also to offer great deals on premium economy flights to Melbourne.
Even though several other worthy competitors are giving us a tough fight, we stand committed to our dedicated customers that always trust our aggregator website to book their first class, business class, premium business class or economy class flight tickets with attractive deals.
White Magic Travels is the best place to receive jaw-dropping off-season deals! Sign up for our newsletters to keep a close tab on the latest updates we post.
In-person Assistance
At White Magic Travels, experience the instant in-person support of our highly skilled and friendly travel assistants. Even though you ping us at the chatbot, our customer care experts will answer you back the fastest. Book your tickets for Premium Economy flights from Melbourne to London with the help of our assistants. Without any hesitation, let us know about any help. We are happy to offer our hands towards you.
100% Safe Transactions Guaranteed
We are tied up with acclaimed merchants ensuring faster servers and uninterrupted transactions. You can use any online payment method and credit/debit cards to pay for your flight tickets. We retain the goodwill of fair transactions because of this our customers trust us and never consider booking flight tickets from any other place.
Book hotels & rental car services
Despite booking your premium economy flight tickets to Melbourne, White Magic Travels also features the finest hotels and resorts listed on the websites. We can also create the itinerary for you, including booking the flight tickets, stay, car rental services, airport drops etc. Avail of this service even if you are off on a business trip to Melbourne.
For any further queries, call us now.